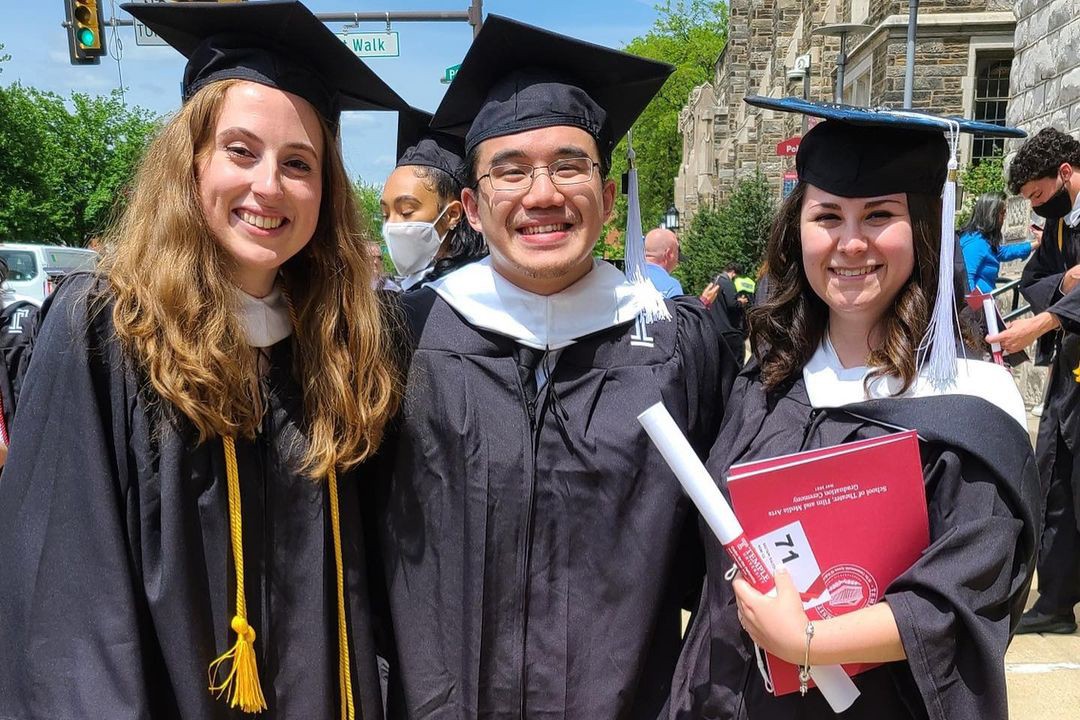 Though they spent their senior year hermetically sealed in a bubble, they lived like kings at the stately 2000 North Broad manor. And after four-ish years at Temple, 23 (Yes, twenty-three!) brothers collected a sheet of paper that may or may not help them find gainful employment.
Our 2021 Spring Graduates with Major, and Employment Prospects
Note: While graduates have been verified by the chapter, most majors and employment plans are entirely speculative.
Justin Addison – Statistics
Walmart "like-new" Undergarments, Assistant to the Assistant Manager
Jared Brown – Business Administration
BJs Gourmet Bulk Grub Distributors, Food Shoveler
Emmanuel Castro – Commerce
Communist Revolutionary
James Dillard – English
Hustler Magazine, Proofreader
Brett Faralli – Sustainable Food Systems
Hatfield Meats, Slaughterhouse Supervisor
Colin Gilchrist – Theater
ABC After-school Specials, Acting Impersonator
Patrick Glasstetter – Liberal Arts
Mom's basement, Unpaid resident
Evan Harrants – Asian Pandemic Studies
Wuhan Laboratories, Animal caretaker
Will Helbeck – Interactive Game Design
Fortnite, Adult player owned by pre-teens
Trevor Lewis – Computer Science
General Motors, Catastrophic Collision Division
Tyrese Marquis-Belfield – Foreign Service
Sex therapy receptionist
Daniel McShane – Engineering Technology
Derry Farms, Shepherd
Chris Newlin – Archaeology
PennDot, Ditch digger
Noah Mitchel – Wooden Ship Building
Below Deck, Yacht Deckhand
Chris Newlin – Mythology and the Occult
Vegas, Magician's assistant
Carmen Paone – Jazz Studies
Vintage Record Shop, That guy who appreciates vinyl way more than you do
Chris Pelc – Fermentation Sciences
Random Brewing Co., Bar back
Nate Petonak – Nutrition, Nabisco
Processed Cheese Product Sprayer
Kyle Sheahan – Marketing
Universal Life Church, Digital Prophet
Mahim Sidduqui – Mass Communications
Mongo Ubercorp, Offshore tech support
Jack Talhelm – Economics
McAdam Financial Advising, Knitcoin Division (targeting old ladies who receive social security)
Andrew Tarsa – Secondary Ed
Assistant Substitute Teacher, Hair gum removal specialist
Michael Tang – Gynecology
Poon Medical Associates
Jake Wolf – Animal Husbandry
Canine Therapist
Alex Zelger – Political Science (Fox School of Politics)
Capitol Stormer