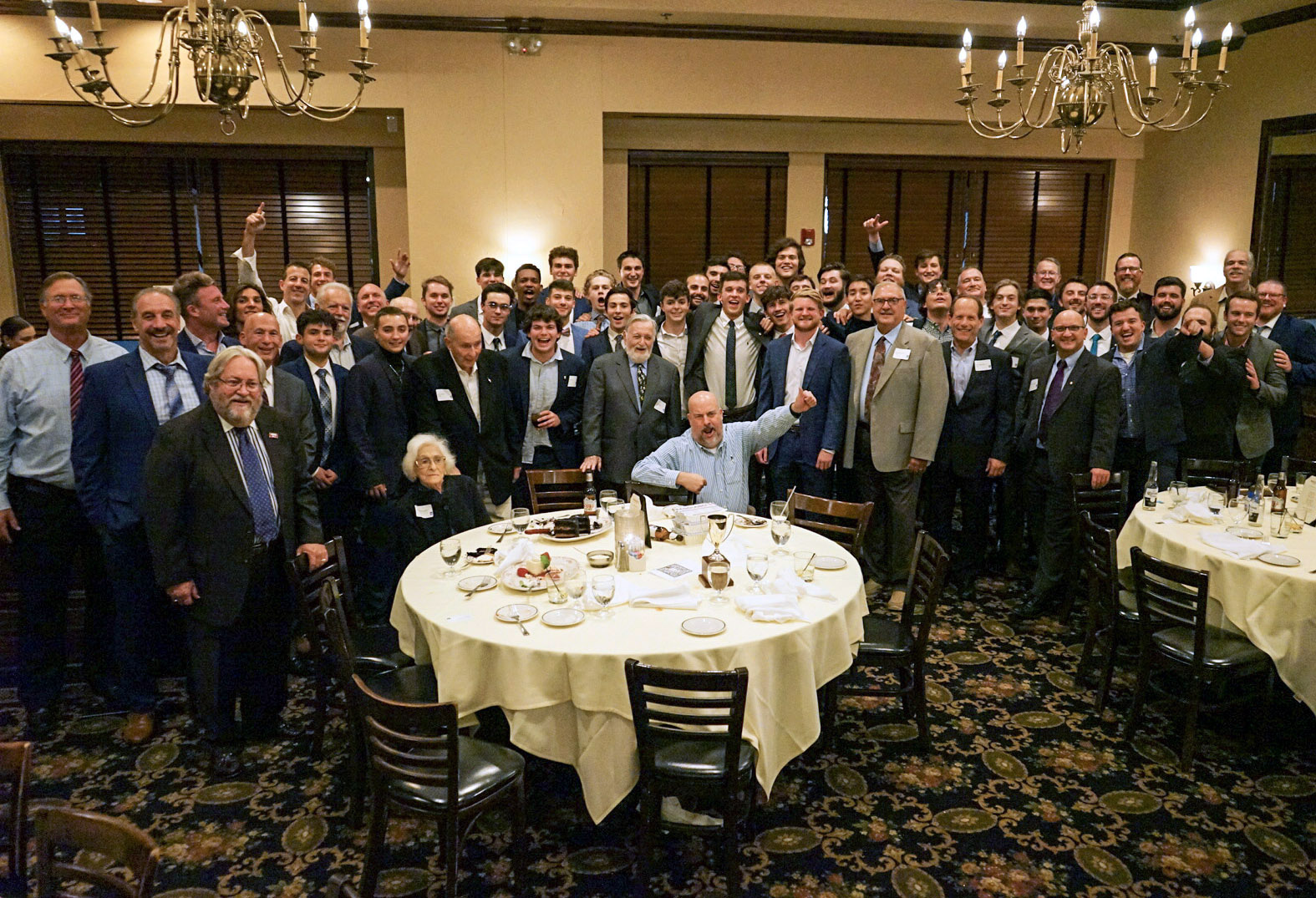 After a three year Covid hiatus, we were finally able to reconvene our long and proud history of buffoonery at the 73rd Annual Kovner Memorial Banquet.
The president of the Alumni Association, Jim Kelsh '74, kicked off the event to a crowd of over 60 brothers at a new venue, Maggiano's Little Italy, that served real eye-talian food, not the rubber, neutered chicken we had become accustomed to.
Photo album
Newbies get indoctrinated
Because it's been so long since we've been able to gather as a group, we had a whole generation of brothers who had never experienced a Kovner Banquet. Except for one, Nick Palomba '23, who said he was "pacing himself" when it comes to graduating.
Old School Representin'
A few of our most respected and experienced brothers were in attendance, including Jerry Balka '51, Stanley Field '58, Irv Koffler '62, and Jerry Zivan '66. Brothers who have truly embraced, "not four years, but a lifetime."
We asked Jerry Balka to deliver the award named in his honor, but as always he delivered a bit more, commenting on how proud he was of the chapter's diversity.
Much $upport from alums
Several brothers gave what they could to defer the costs to host this event. As much as we try to keep it affordable, sadly costs keep escalating.
Thanks to the alumni brothers who supported the "undergrads are poor" fund to help them attend the banquet. Chris Cataldi '95, Ron Savarese '92, John Lewin '00, Robert Yeager '68, Jimbo Montgomery '01, Matt Blyler '96, Tony LaViola '06, Todd Smith '98 and Derrick Friend '95 all contributed to subsidizing the cost of the undergraduates.
Undergraduate awards
Congratulations to the undergraduate award recipients:
Athletic Achievement Award – Ben King
Shawn J. Battle Purple and Gold Spirit Award – Jake Strasser
Jerome R. Balka Award – Nick Cornell
Alfred L. Kovner Memorial Award – Will Tornambe
Kovner 2023 — keep the tradition alive
If you would like help to celebrate a class anniversary please let us know. We can help! And if you missed it this year, plan to attend in 2023 with a bunch of your classmates! Every year missed is a lost opportunity to catch up with old friends, and remind the active brotherhood of how great you thought you were.