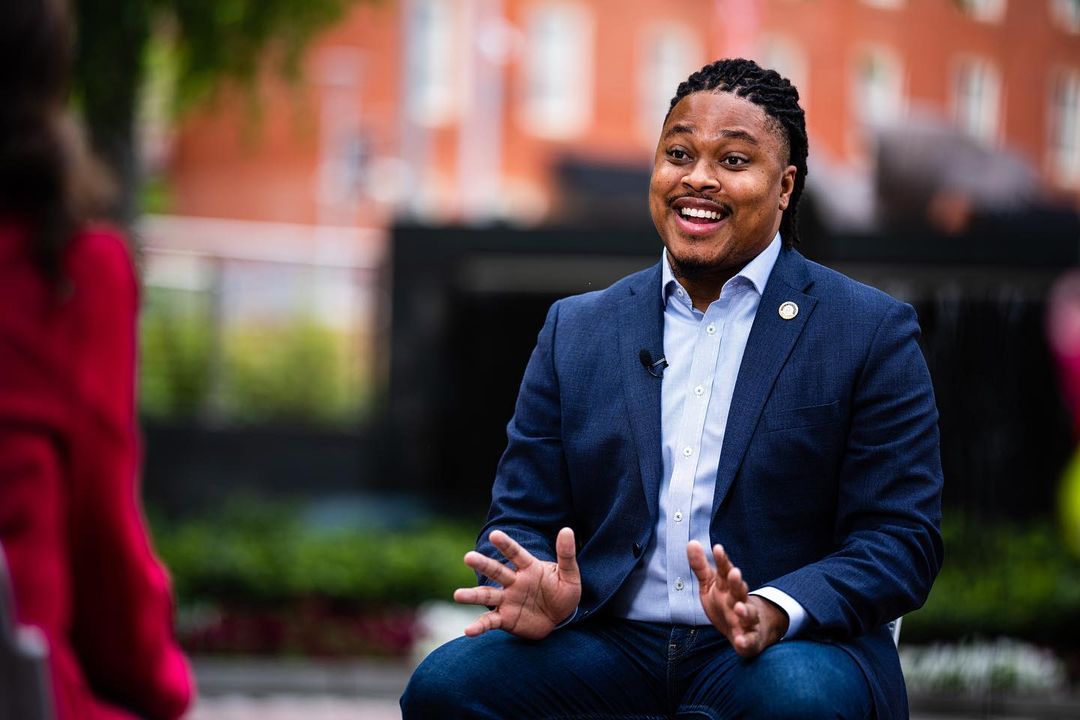 Malcolm scholarship for social excellence
PA Representative Malcolm Kenyatta, Temple '12, has been called a rising star in the Democratic party and recently announced his bid for the U.S. Senate. But before his meteoric political rise, we suspect he was also called some other choice names by pledges of the Temple Pi Lam chapter. As the pledge master, he relentlessly challenged them to excel, be accountable, embody the ideals of the fraternity, and likely maintain peak physical fitness.
Malcolm took time from his busy campaign schedule to share his experiences as a Pi Lam brother and how it influenced his life for the Alumni History Collection Project.
Here are few excerpts from Kenyatta's Interview:
What made you join Pi Lam?
"The Creed. Ideas are incredibly powerful. And the idea that we treat everyone with a level of decency and kindness — that was an incredible draw. We spent a very hot summer in Philly at the old house painting the Creed on the ceiling."
You joined when our chapter was in transition, and became a refounding father. What was that like?
"The idea of being in at the start and building something from the ground up was very compelling. I wound up building strong relationships with brothers that I probably would have never engaged with… folks who are now some of my closest friends." 
As new member educator you made quite an impression. One of your former pledges said, "you would run through a wall for that guy after a meeting." What was your message to them?
"It's about being very clear where the bar is in terms of what you want folks to do and accomplish, then raising the bar higher. It was very important to me that they take it very seriously, because I took it very seriously. A lot of them hated me at the time. I held them accountable to not just memorizing the history and the Creed, but to embody it in their lives."
You were once quoted in the Temple Times about the service aspects of fraternity, saying, "We want to show people that, yeah this guy drinks a beer, but he has a purpose." What did you mean by that?
"There is this view that fraternities are nothing more than a social and drinking club. But there was much more to us than that, and we were driven by a belief that we can do more together than alone. We were all grounded in a shared commitment to the things that we pledged to be a part of. That commitment looks like helping folks… lending a hand through hard times, showing up for a non-profit we supported, or participating in a block clean-up. It's important that folks see the duality. Certainly it's about having fun, but it's not mindless."
Do you think you were destined to be a politician?
"I grew up not far from Temple and it was incredibly tough. We didn't have a lot, and my parents worked incredibly hard, but we were just always on that treadmill of poverty. So, I've always been driven by challenging that inequality. For me, my genesis into politics was that I was really poor and upset about it. Now I have an opportunity to not just be upset about it, but to actually build something."
What influenced your political aspirations?
"I love my neighborhood. You don't always get the opportunity to grow up somewhere, go to university in the neighborhood, and then come back and have the opportunity to run for office. It was one of those moments where I was either going to be on the outside looking in, talking about things I wanted to see people do, or use as an opportunity to take into public office."
Fast Facts
Driving around the country as an IHQ rep was good training for the grind of a political campaign.
Though honored that he was a recipient of the Rafer Johnson Upsilon Award, he is self-admittedly a terrible athlete.
Best cheesesteak in Philly? Max's
Please share your Pi Lam stories
Our Fraternity has a rich history, and every brother's experiences are a big part of that. We'd really like to hear your favorite Pi Lam memories and stories.
You can share your stories and experiences by calling: 855-376-0575
There is no obligation to purchase the oral history or directory.