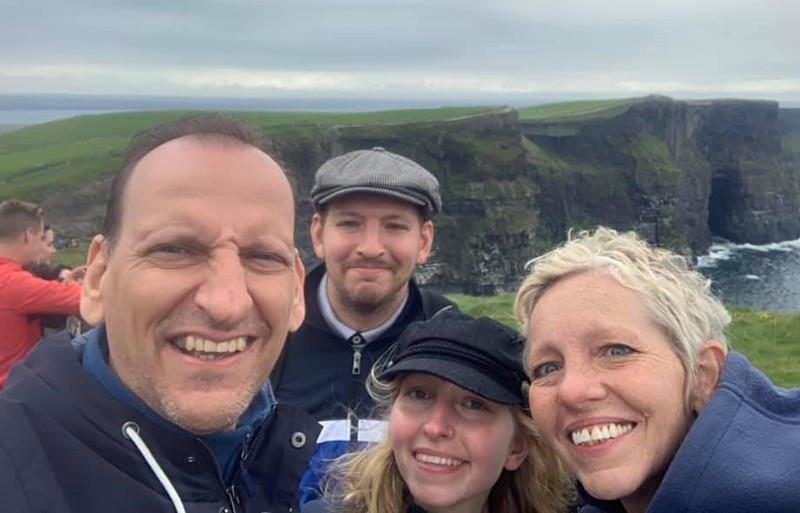 Some Pi Lams are doing great things, while others…
Nate Weaver '19 – Will fight you and your whole family
Rumor has it, the Weavers are spoiling for a feud! A family feud. Nate and his family appeared on the Family Feud with Steve Harvey in November.
Bob "Sporty" Hoch '87 – Would kill for a Popeye's chicken sandwich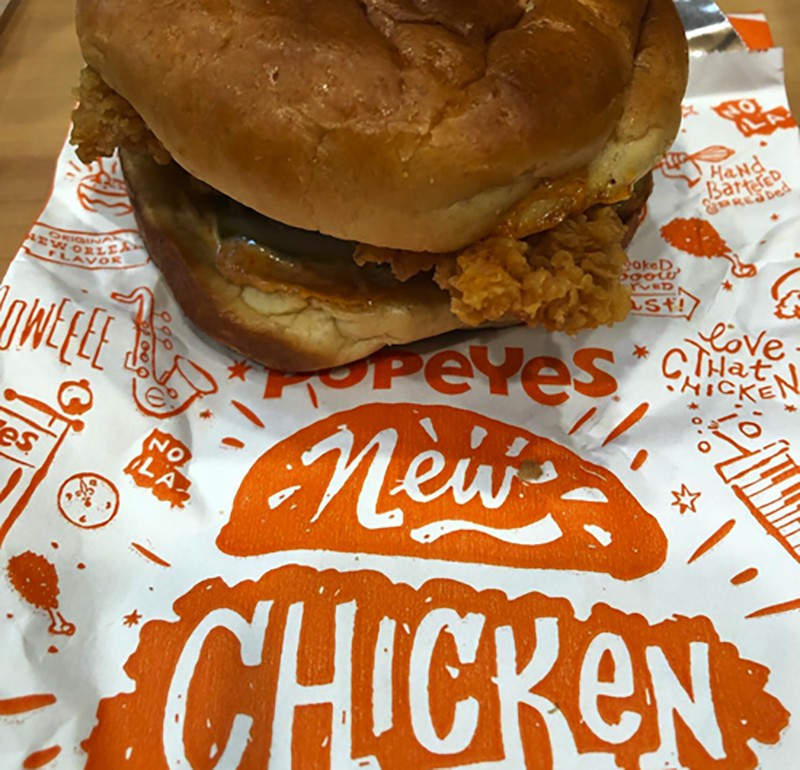 Bob recently reported that he ate his first Popeye's chicken sandwich. Bob admitted, "yeah, I had to kill a mother-effer who butted in line for it, but damn, it was a good sammich."
Jesse Monoski '16 – Won an election!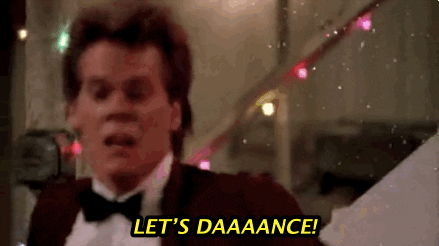 Having assembled a war chest of nothing more than a cooler full of Iron City beer, no one expected Jesse to win the election for Lemoyne Borough Council, a rural municipality in the heart of Pennsyltucky. But to everyone's surprise, the voters said, "yeah, whatever," and Jesse was vaulted into office. Jesse says his first meaningful legislation will be the revocation of book burning, then decriminalizing public dancing. Good luck!
David Silver '68 – Purple and Gold goes Red (Cross)
Most brothers remember the wild philanthropy "boasts" we made for the sake of the university and IHQ. Um… we swept Norris street. We ate, I mean made, bologna sandwiches to feed the homeless. Yada, yada, yada. Fortunately, Brother Silver may be atoning for our sins. He's an avid volunteer for Red Cross disaster work. Silver relayed, "I just came back from Detroit for flooding. I was managing a shelter in Missouri due to tornadoes, and I'm preparing shelters for hurricane Dorian in Florida." Sadly, this kept him from attending Kovner, but he asked that we sing a round of "tinkle tinkle little phone" for him.
John Lampi '69 – Keeping history alive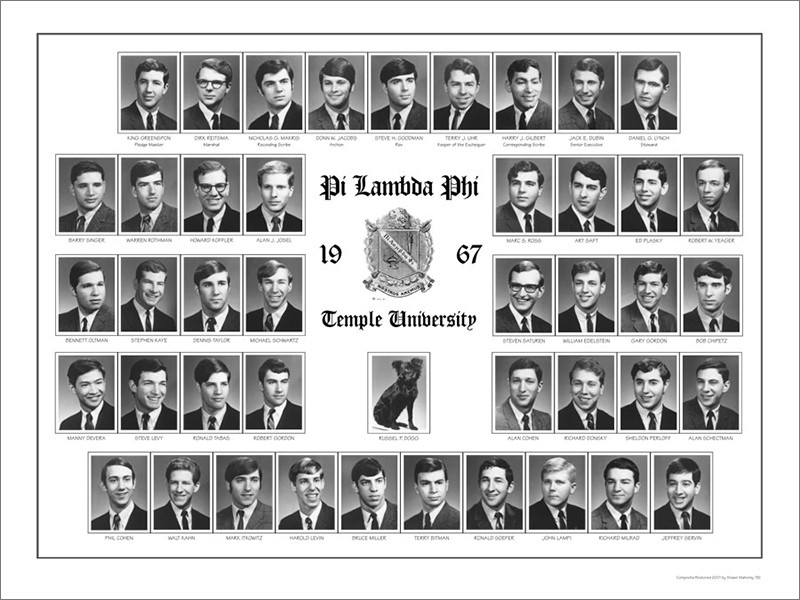 John was moving, downsizing and getting rid of some stuff. Fortunately, he thought of us, and sent his copy of the 1967 composite to the alumni association. Thanks John! If you have any classic fraternity photos in your "old stuff" box, please share with us.
Andrew Bollinger '11 – IHQ Executive Stooge
Congratulations to Andrew Bollinger for his recent appointment to the Pi Lambda Phi International Executive Council (IEC)! Andrew was the first Rex of the re-founding class of PA Alpha Delta. He is currently an attorney in the Chicago office of Saul, Ewing, Arnstein & Lehr, LLP. He will be joining Temple alum Ryan Overturf, the secretary of the IEC… confirming that the IHQ has lost its mind.
Stavros Gougoustamos '94 – Knows a good gyro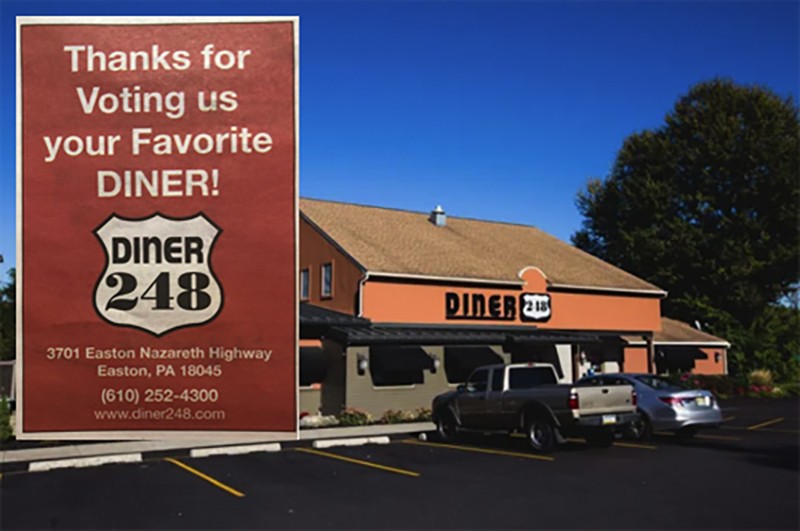 Since graduating, Stav has taken the traditional route for Greeks: dancing, drinking Ouzo, and breaking plates… mostly at his family's restaurants. Diner 248 in Easton, PA, was recently named the Best Diner in Pennsylvania by Mental Floss and selected as the favorite diner by the Morning Call. Opa!
Neil Flanagan '93 – Changing ampersands
Upon reviewing the latest brother directory, Neil contacted us, saying he hadn't worked for Johnson & Johnson in 20 years, "though I do have a sh*tload of stock, and their dividend is the tits." Neil said of his current jawn as an IT Director/Systems Administrator with Dughi, Hewit & Domalewski, P.C., "It's marginally impressive and there are no stock options, but they compensate me fairly from the shear terror of me holding their data hostage." Company hazing? Well done, sir. Well done, indeed.
Bob Pennock '11 – McLiving the life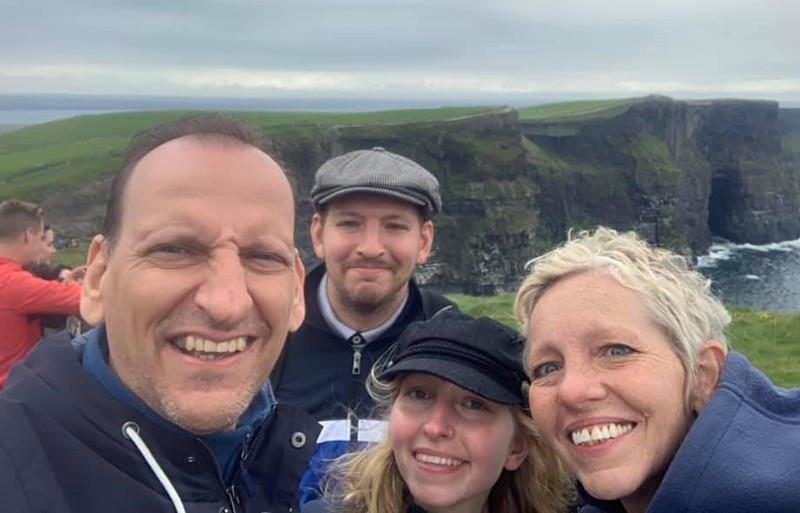 Bob has big dreams. He recently shared one with us, "maybe one day I will be featured in the brother news… been living here in Ireland past 8 months, the Republic of course!" We are pleased to grant Bob this one dream, and would also like to propose a dream trade to the Irish Republic. You get to keep Bob Pennock in exchange for one case of warm Guinness.
Malcolm Kenyatta '12 – Temple 30 under 30
Up and coming legislative phenom, State Representative Malcolm Kenyatta, made the Fall 2019 Temple University Magazine's 30 under 30. In spite of his new-found notoriety, there is no doubt he's still loyal to Pi Lam. He opened his office in Progress Plaza, right across the street from the new chapter house.
Stork Droppings
Congratulations on your new tax deductions!
Tony Saba '92 – Tony took advantage of a 2 for 1 sale and announced on October 4th, Rory and Nicholas Saba
Ball and Chain
Congratulations on your new joint checking account!
Matt Rieger '14 – September 21
What's news with you?
Want to share your news, happenings, brother sightings, or brushes with greatness on the website?