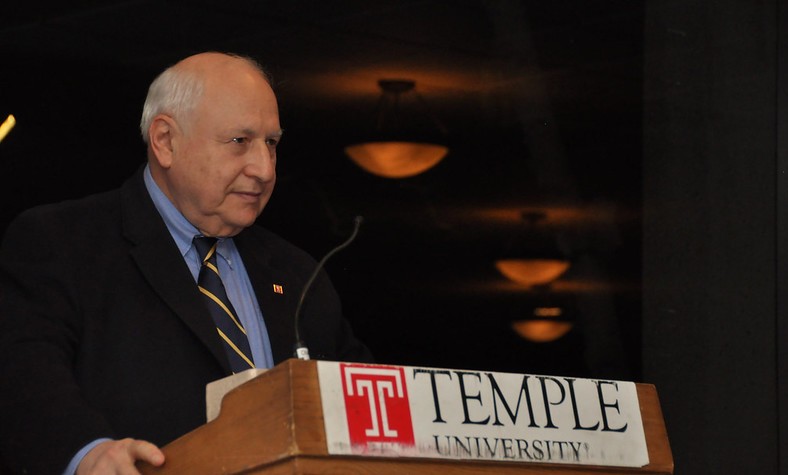 Some Pi Lams are doing great things, while others…
Lee Greenspan '55 – Still Rockin'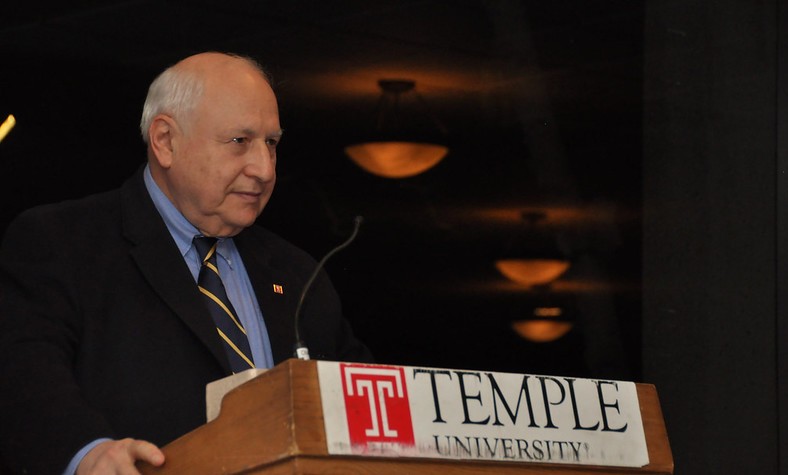 56 years after Brother Greenspan graduated, he is still involved with Temple and Pi Lam. Lee was the most senior brother at this year's Kovner Banquet and was gracious enough to give a highly entertaining invocation. A season ticket holder for football and basketball, Lee says he sees brothers Len London, Sid Lieberman, and Fran DeLucia regularly. Lee has done well for himself in the business community as well. He recently acquired a law firm in Boca Raton and bought into a stone supply company and masonry installation company in Putnam County, New York. Rock on, brother Lee-vis!
Joe Pizza '05 – "We all killed Bi Laden, sir."
Was it Obama? Bush? The CIA? SEAL Team 6? Not according to Joe Pizza. Congratulations to the Fall 2001 Pi Lam pledge class for ridding the world of the scumbag, terror monger Osama Bin Laden! They may not have pulled the trigger, but they were given the order on their Scavenger Hunt List. Joe faithfully recalled the task, "Item 126 – Osama Bin Laden: Dead or Alive. Done!"
Akeim "Big Tank" Leonard '08 – Kicking ass and taking names
Akeim Leonard is a cage fighter in the Asylum Fight League. After he realized he could roll over unfortunate opponents in the ring like the Germans rolled through France in WWII, he took the name, "Big Tank." Said Brother Leonard, "I was going to go with 'Sugar Ray' but it just didn't have a ring to it." On March 26, 2010, Akeim fought for the Junior Heavyweight Title at Trump Marina. Sadly for Akeim, his opponent "Relentless" Danny Holmes did not roll over like a pussy Frenchman. Akeim lost the fight in a split decision, but vowed a rematch.
Sydney Gottenberg '51 – Drop off was never so much fun
Sydney spent 45 years in the Philadelphia School District and lived to tell about it. Now 82, he lives in North Wales, PA with his son. As an undergrad he enjoyed hanging out with Marv Welsh, Jerry Balka, and Jack Siegal at the house on 2011 North Park Ave. During Hell Week, Sydney recalls, "pledges were stripped of money, kidnapped, driven on Route 1 (there was no I-95) and dropped off outside of Newark, NJ in a deserted field. Making our way back to Philly was an adventure."
Michael Schwartz '68 – Misses the thrill of victory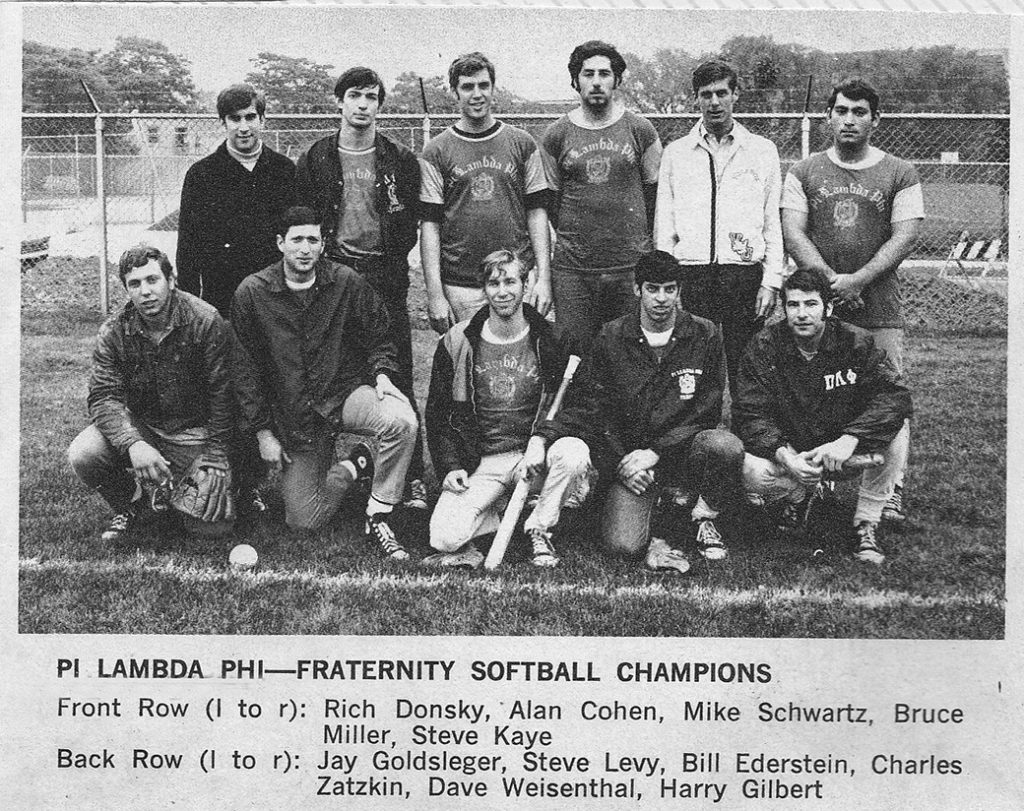 Michael missed out on Kovner this year, but sends regards to classmates who did attend, saying, "Alan Cohen is a dear friend, and Jeff Servin was my pledge son in 1968." He looks forward to attending Kovner in 2012. Brother Schwartz listed his favorite undergraduate activities as, "Toga Parties, pig parties, and beating AEPi and TEP at any sport."
Art Petersen '05 – Bear pong purveyor and furry enthusiast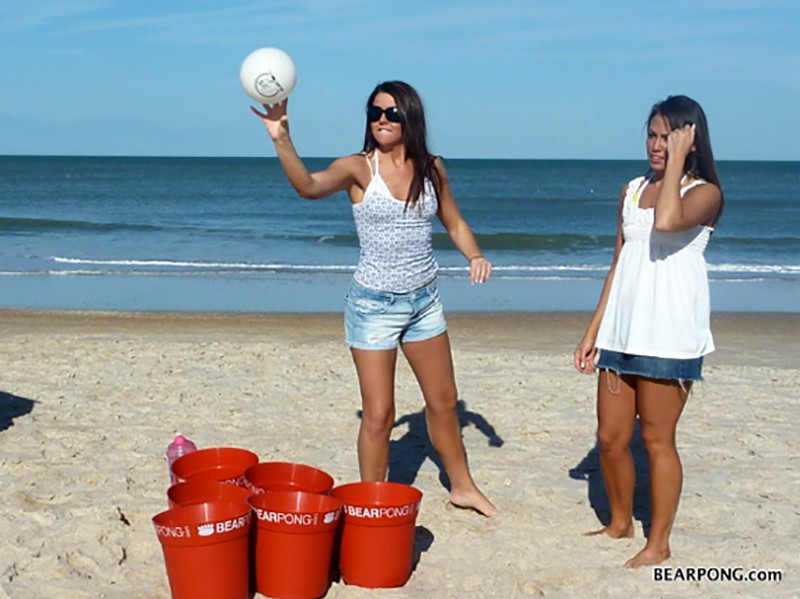 We all know about beer pong, the spirited game of skill that relied on quick reflexes, mean-spirited smack talking, and alcohol tolerance. But you probably haven't heard about its commercialized counterpart, Bear Pong. Art Petersen found a unique way to capitalize on the "sport of Rexes" by super-sizing the game to bear-like proportions. Art graciously offered the undergrads a unique opportunity to promote Bear Pong at this year's Spring Fling.
Walt Morris '93 – Wants to ghost write your term papers
Walt checked in recently with the following update, "I'm a full time limo driver for my two kids, when I'm not working at my day job as a publisher of scientific bullsh*t for a small association in Bethesda, Maryland. The pay at both jobs sucks, but at least at the day job, crumbs, juice and other crap don't get left in my Camaro. I'm still willing to write and edit brothers' papers, only now for much larger payouts."
John Di Domenico '86 – More personalities than your psycho ex-girlfriend

If you thought Donald Trump's impersonation of a presidential candidate was entertaining, you're going to love this. Brother Di Domenico does the Donald, as well as a host of other celebrity impressions for corporate gigs. His cast of characters includes Jay Leno, Dr. Phil, Larry King, Ozzy Osbourne, Dr. Evil and Austen Powers, which People magazine called the best in class. His comedy stylings are available for sales meetings, trade shows, interventions, and bar mitzvahs!
Adam "Commissioner" Gordon '09 – Self proclaimed geek
Adam works as Geek Squad Double Agent. We're pretty sure this both qualifies him to fix your computer and not get laid.
Dan Lynch '69 – Posting videos on YouTube (not adorable kittens)
"I'm now operating a company with a few partners that publish history-oriented books and produce history-oriented documentary films that we air on local television in Albany. Our Web site is forpeoplewhothink.com. We're now beginning a new project — mini-documentaries on American history for classroom use on the middle school through college levels. These five-minute films are being offered absolutely free of cost to anyone. I hope the brothers enjoy it and that some of them might find use for it in some classroom somewhere."
Stork Droppings
Congratulations on your new tax deductions!
Mike "Poopy pants" Braun '96 – "My wife Christine and I had a baby boy last January, Jack David Braun." We assume Jack will live up to his father's fraternity nickname.
Jeff DiBlasi '01 – Completes the trifecta. Child number three is Nathan David, born September 12, 2010.
Chapter Eternal
Matthew Ryesky '84
"My husband Matthew Ryesky died March 14, 2010. He had many fond memories of his time with Pi Lambda Phi." ~ Linda Ryesky
Brad Crossmore '80
"My brother Brad died on March 30, 2008. The long term affects of juvenile diabetes were the cause of his death. He loved his association with Pi Lambda Phi and he always spoke of his wonderful memories."