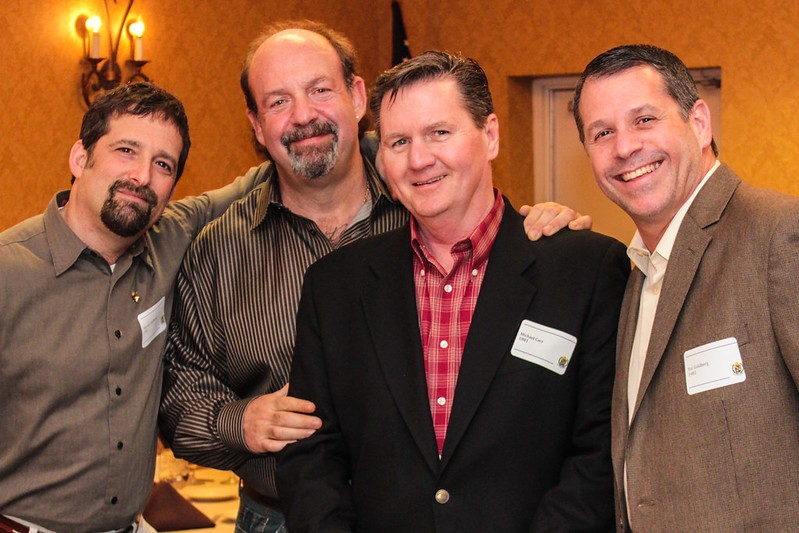 The 2013 Kovner Banquet had a little bit of everything. A healthy collection of brothers from the 90s, 80s, 70s, a sprinkling of the 60s, and a statistically improbably number of undergraduates named "Malcolm," were in attendance.
Photos
View photo captions and full sized images on Flickr
Spring 1993 pledge class reunion
Chris Cataldi '96, who traveled all the way from Miami, celebrated the 20th anniversary of the Spring 1993 pledge class with his whaleshit brothers Sal Farrugia '96, John Keegan '95, and Kevin Mickleberg '96.
Elections far less popular than indulging
A few completely disinterested and confused alumni cast votes that somehow resulted in a new Alumni Association E-Board. Many later admitted they thought they were raising their hands to order a drink. Congrats to our new officers, including two young alumni who were products of the chapter revitalization in 2009.:
President – Donny "Boss" Hoegg '12
Vice President – Ryan Overturf '07
Treasurer – Bob Arthur '96
Secretary (and mascot) – Malcolm McMillan ?
Undergrads attend free
Thanks to the generous donations of Marv Welsch '49, Bob Yeager '68, Joe Costy '77, Chris Cataldi '96 and a small stipend from the alumni association, the undergrads attended the event for free! Later that night, many undergrads spent what they saved on some quality tail.
Undergraduate awards
Congratulations to the undergraduate award recipients:
Athletic Achievement – Micheal Pallante
Jerome R. Balka – Nick Selko
Shawn J. Battle Spirit – Nick Selko
Alfred L. Kovner Memorial – David Drosdick