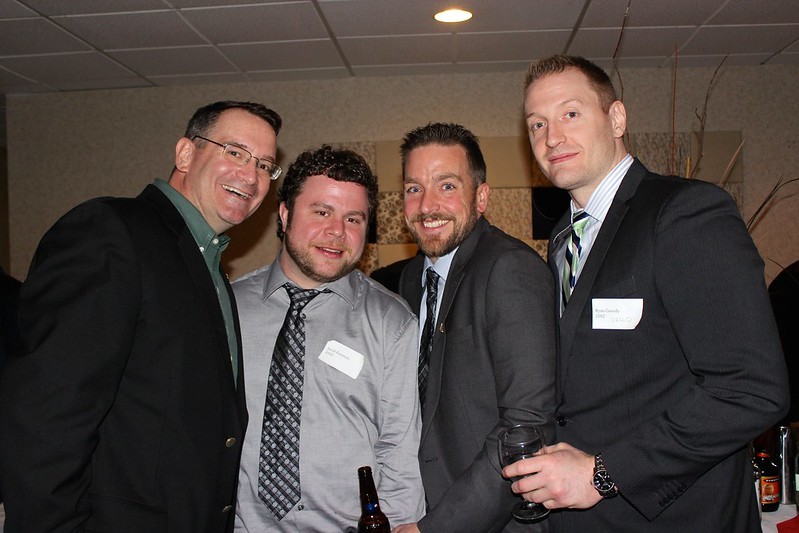 For those of you who missed last year's banquet or were too drunk to remember, we elected a new president of the alumni association, Donny "Boss" Hoegg. As a part of his official duties, Donny made a valiant effort to keep the brothers' attention, but in spite of his best material… let's just say he's no E. F. Hutton.
Photos
View photo captions and full sized images on Flickr
Remembering Scott Campbell '01
Scott Campbell '01, or "Scotty Balls," as brothers knew him, passed into the Chapter Eternal last May. A number of his classmates gathered to honor his memory at Kovner, including Chris Laskey '97, Ray Lerro '97, Todd Smith '98, Vasili Barbounis '99, Tony Gibilante '99, Jay Jaitley '00, Jeff DiBlasi '01, Chris Hopkins '01, Jim Montgomery '01, Ryan Cassidy '02, Jake Freeman '02, Jay Carrington '03, Steve Breslin '04, and Andrew Haas '04.
Alumni give undergrads a free ride
We all remember the penniless existence of our college years, digging through couch cushions for beer money – in fact, for some of us, not much has changed. At any rate, thanks to the generous donations of Marv Welsch '49, Bob Yeager '68, Joe Costy '77, Chris Cataldi '96, Kevin Mickelber '96, and a small stipend from the alumni association, the undergrads attended the event for free!
Well traveled brothers
A few brothers logged a lot of miles to make their way to this year's event. Todd Smith '98 flew in from San Diego to join the brothers remembering Scott Campbell. Joe Costy '77 drove up from North Carolina for his eighth consecutive year for a reunion with those 70s guys. And David Silver '64, came all the way from Kentucky to celebrate the 50th anniversary of his graduation.
Undergraduate awards
Congratulations to the undergraduate award recipients:
Athletic Achievement – Bob Pallante
Jerome R. Balka – Dylan McKay
Shawn J. Battle Spirit – Eric White
Alfred L. Kovner Memorial – Jay Patel
The Story of Alfred Kovner: Brother in Arms
Before presenting the final award of the evening, Shawn Mahoney '92 shared the military history of Kovner that he had researched over the past several years.
Shawn's speech concluded, "Kovner was a lot more than a quote. He was an example of what we strive to be as brothers. He never returned home, but his strength, courage, and convictions live on through Pi Lambda Phi. And this is why we honor his memory."