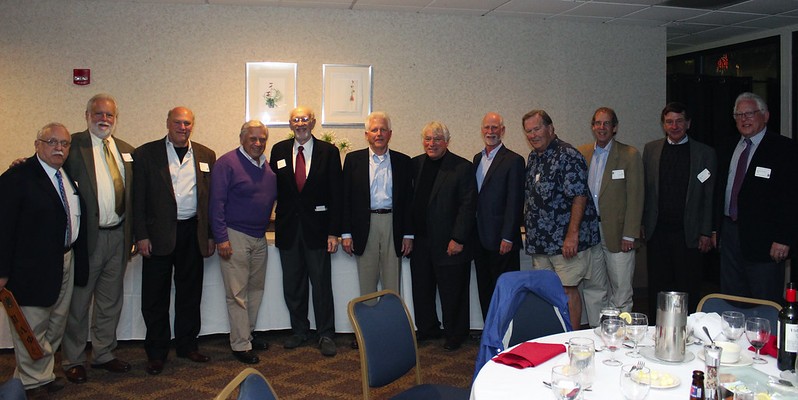 The Kovner tradition endures because, year after year, brothers come to share the legacy of Pi Lam. And the 69th annual Kovner Banquet was no different. And yes, "69" jokes were encouraged.
Photos
View photo captions and full sized images on Flickr
The 60s Reunion/Sit-In
An unprecedented number of brothers from the 1960s came to celebrate the 50th anniversary of the class of 1966, thanks to Jerry Zivan and the 60s reunion ambassadors. Jerry contacted the alumni association with the idea of a reunion, and enlisted the help of Irv Gross, Steven Gordon, and Dan Lynch to make the banquet into a full fledged 1960s sit in. Joining them were a dozen brothers from the 70s, making this the unofficial banquet of the Vietnam era. Many 60s brothers took to the podium to share their Pi Lam stories, and what they vaguely remembered about Woodstock.
There is something strange about being a Pi Lam — a certain similarity between brothers, regardless of era. Jerry and Irv spoke of their classmates who had become successful businessmen, doctors and lawyers. Still, you could tell many of their best lifetime experiences came during their years as a Pi Lam. Their stories are not so different than those told by the brothers of the 50s, 70s, 80s or 90s.
Undergraduate awards
Congratulations to the undergraduate award recipients:
Athletic Achievement – Bob Pallante
Jerome R. Balka – Andreas Kraus
Shawn J. Battle Spirit – Eric White
Alfred L. Kovner Memorial – John Manning
Kovner 2017 — keep the tradition alive
In a rare appearance at the podium, even the reserved but ever-present, Irv Koffler '62, urged brothers to come back next year, and every year.
If you missed it this year, plan to attend in 2017 with a bunch of your classmates! Every year missed is a lost opportunity to catch up with old friends, and remind the active brotherhood of how great we thought we were.