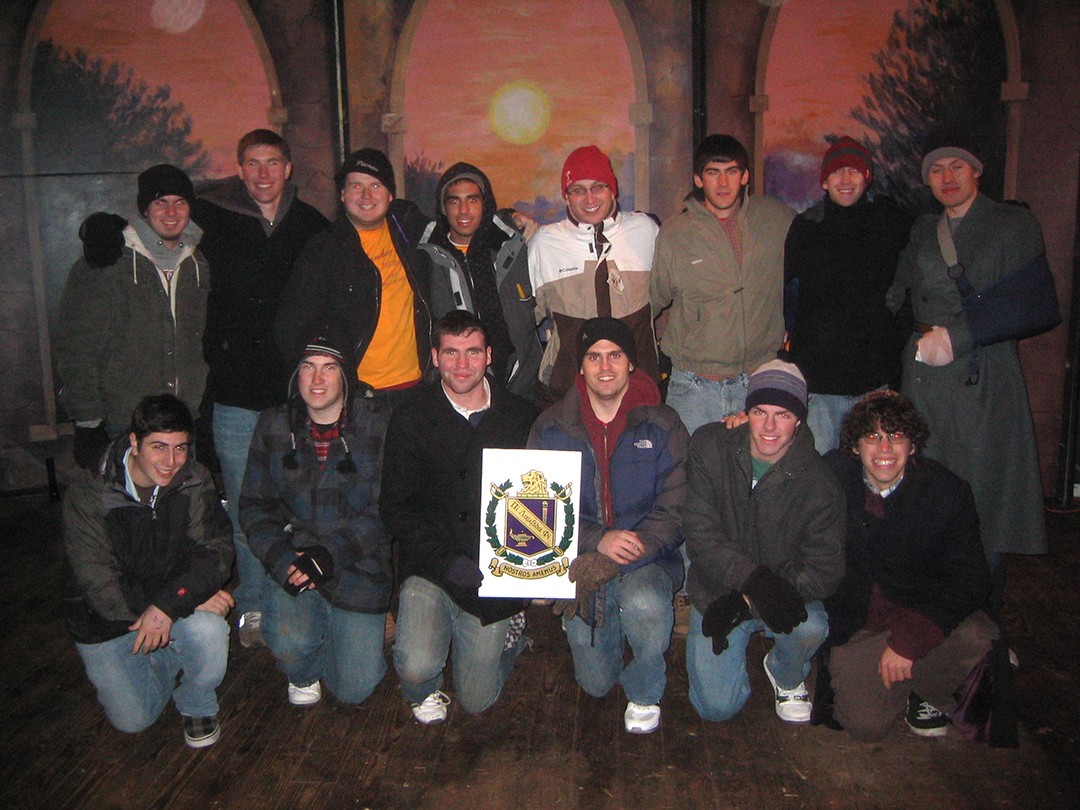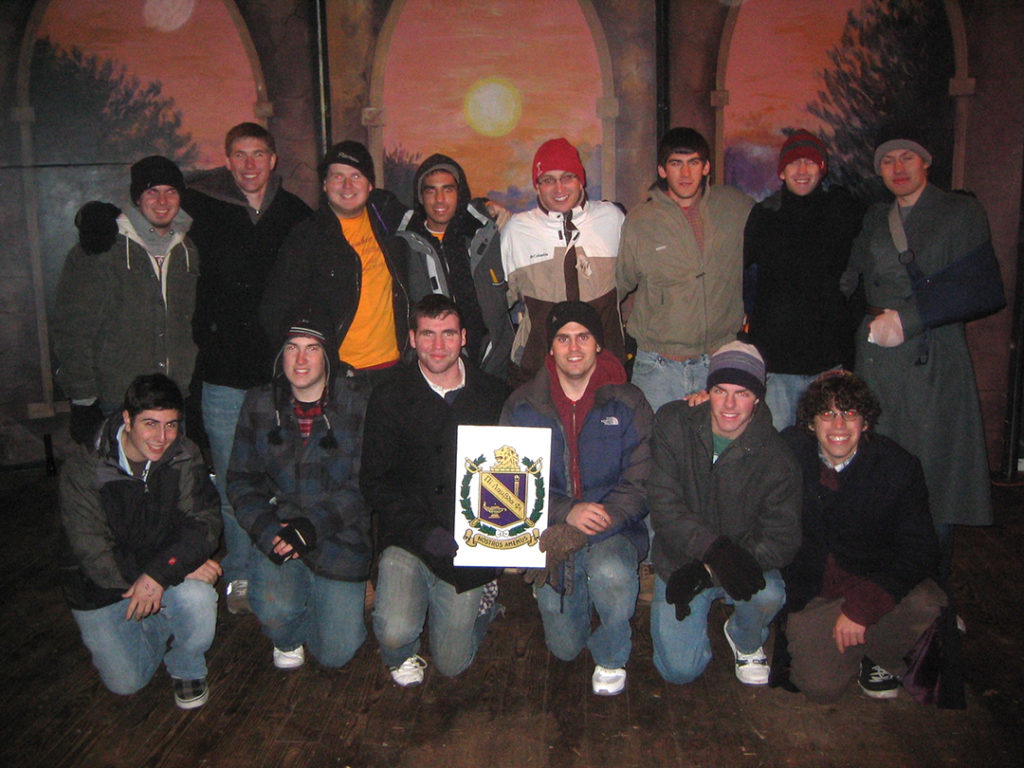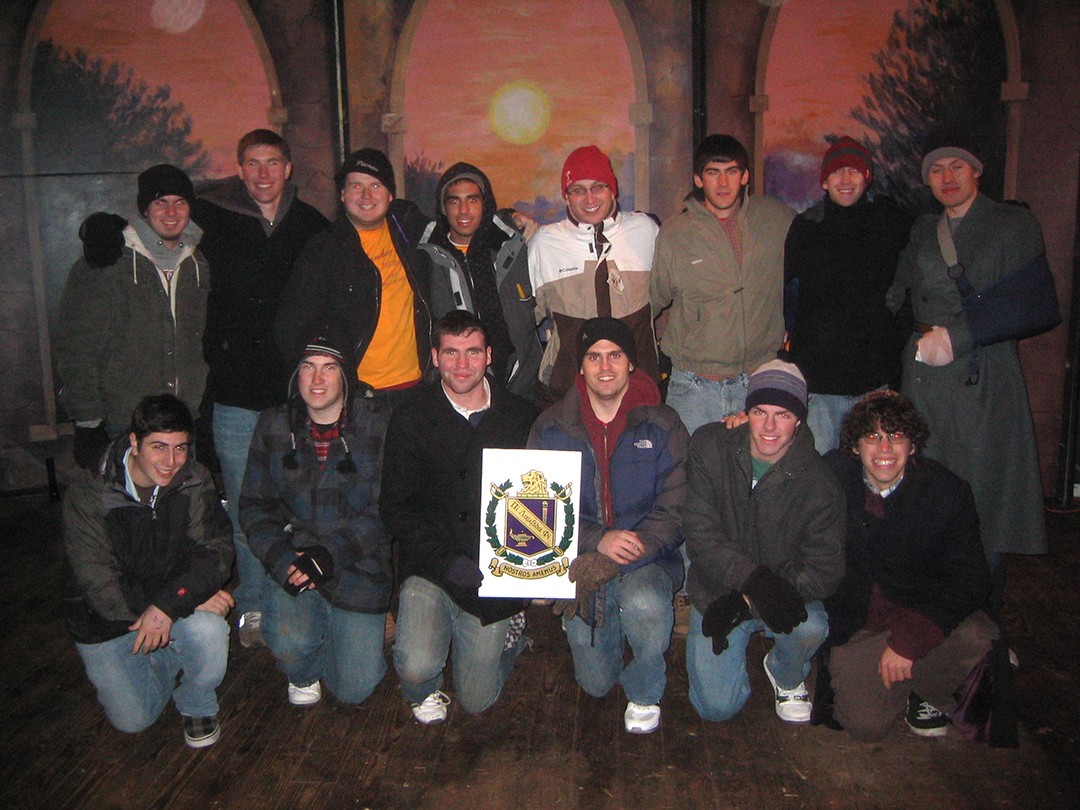 A bone-chilling day in December 2009 saw the initiation of 14 brothers into Pi Lambda Phi, officially signifying the return of the PA Alpha Delta chapter to Temple. For the fall 2009 class, freezing their orbs off in a barn* in Montgomery County was a small price to pay to be known as a "refounding father" of one of the most prominent Pi Lam chapters in the fraternity.
While this is a new era for Pi Lam, many things remain the same. Like the classes before them, the newest brothers are a diverse bunch. But unlike their "lunkhead" predecessors, these guys are pretty smart, boasting a 3.06 GPA.
PA Alpha Delta Fall 2009 Class
Rex – Andrew Bollinger, Gettysburg, PA | Junior, Political Science 
Archon – Nate Moore, Erie PA | Sophomore, Chemistry 
K.O.E. – Jacob Atar, Carlisle, PA | Junior, Biology 
Marshal – Thomas Patterson, Picture Rocks PA | Freshman, Actuarial Science 
Scribe – Bryan Mann, Penacook, NH | Sophomore, Jewish Studies 
New Member Educator – Yotam Dror, Palo Alto, CA | Political Science 
Alexander Billotte, Clearfield, PA | Sophomore, Elementary Education 
Frank Cetera, Palm Harbor, FL / Rumson, NJ | Freshman, Mechanical Engineer 
Andrew Lorenzini, Antioch, IL | Sophomore, International Business and German 
Malcolm McMillan, Brunswick, MD | Freshman, History 
Timothy Reilly, Dresher PA | Freshman, Broadcasting 
David William Severns, Horsham, PA | Freshman, Political Science 
Kevin Smith, Edinboro, PA | Sophomore, History
Eric Weinstein, Howell NJ | Freshman, Music Education
In the past, staying off of double secret probation was the sign of a successful semester. These guys are setting their sites just a tad higher. Among their spring 2010 goals:
Raise $1,500 through Philanthropy
Rush 20 new quality members
Cumulative GPA of 3.3
Acquire housing for the chapter
Join us at the Kovner Banquet on March 26 to congratulate the refounding fathers face to face, and celebrate the resurgence of the PA Alpha Delta chapter.
*Disclaimer: No farm animals were harmed in the execution of the ritual.