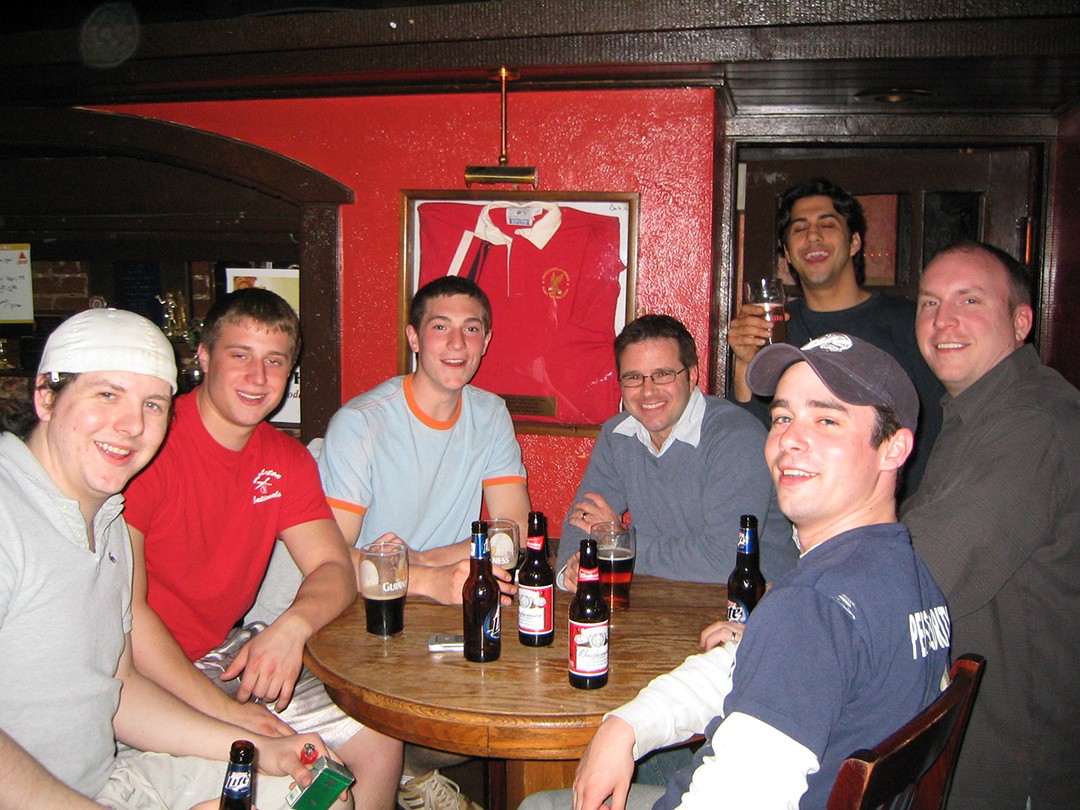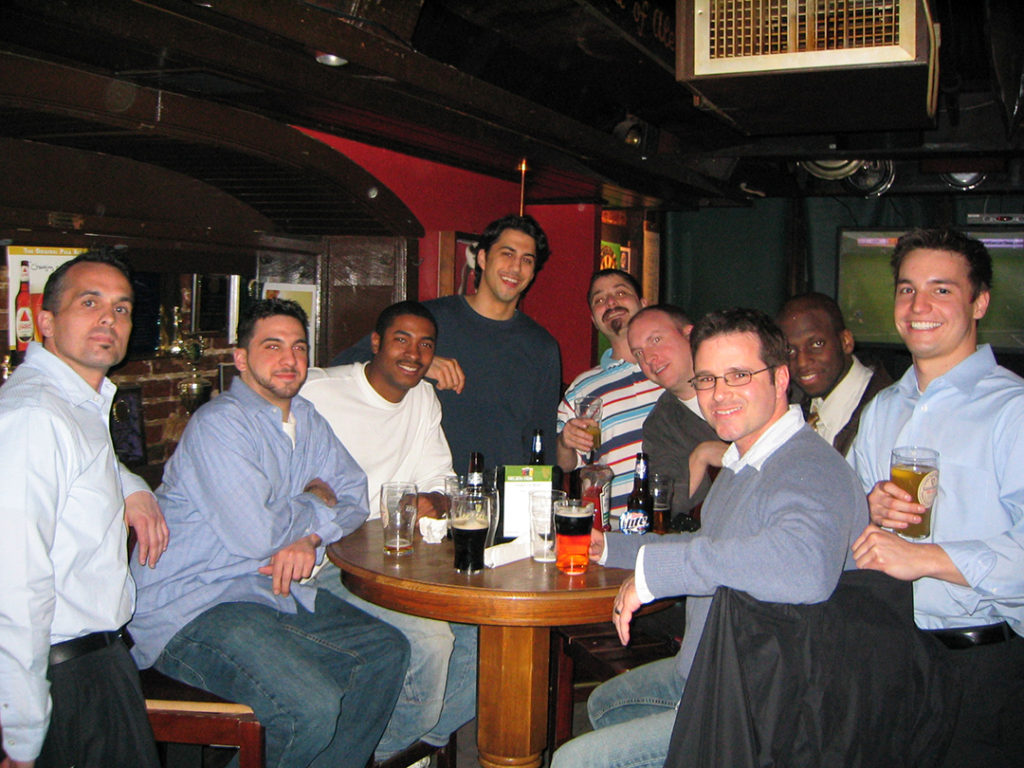 Alumni and undergraduates gather for "hug it out" happy hour.
Graduate, undergrad or somewhere in between (brothers seeking that elusive B.A. through the trickle-down method of learning), a Pi Lam is a Pi Lam. This self-evident truth was reinforced recently as brothers and undergraduates gathered for a "meet and greet" happy hour at the Dark Horse Pub on March 28.
The last time these groups met at the 2006 Kovner Banquet, the state of the chapter raised some friction. Throughout the course of the evening passions flared, and at times it was like watching a session of British Parliament. But sometimes, that's how brothers behave… at least in my family.
This happy hour was the first organized attempt at face-to-face "hugging it out" for the 20 to 30 alumni and undergrads in attendance.
Chapter Advisors Ron Savarese and Tim Bryan broke the ice, telling the undergrads not to fear elder brothers' receding hairlines and bulging waistlines.
Before they knew it, the undergrads were telling the alumni about coeds, classes, parties and sports, and the alumni were relaying their stories of Pi Lam prowess, which had been shamelessly embellished over time.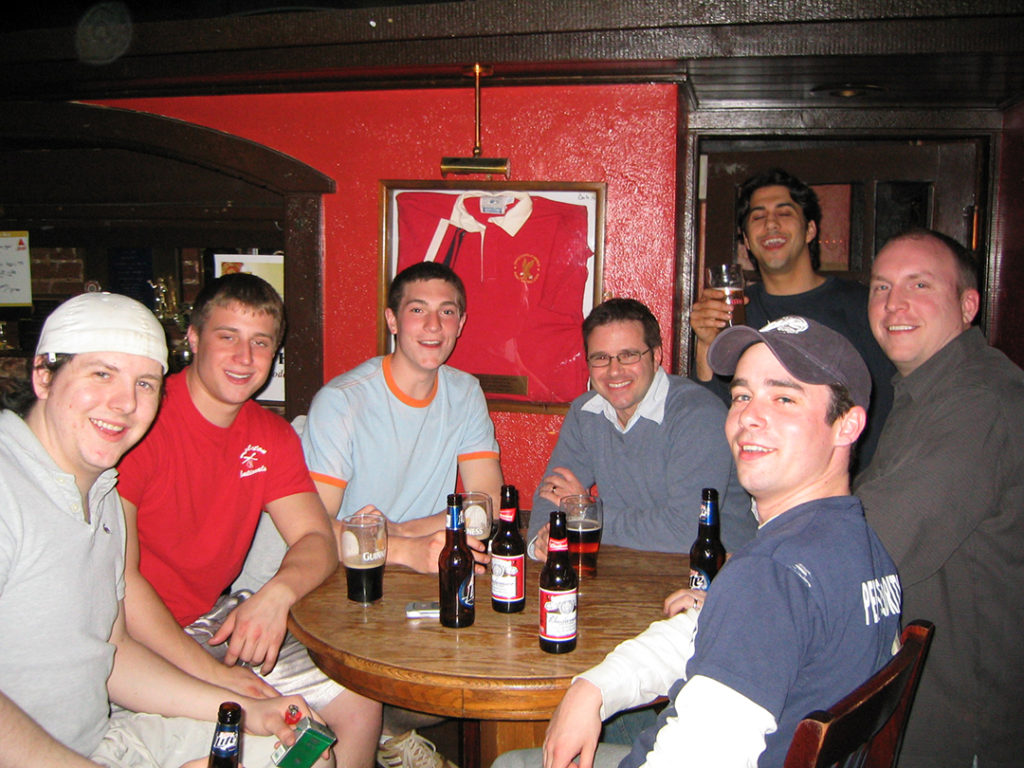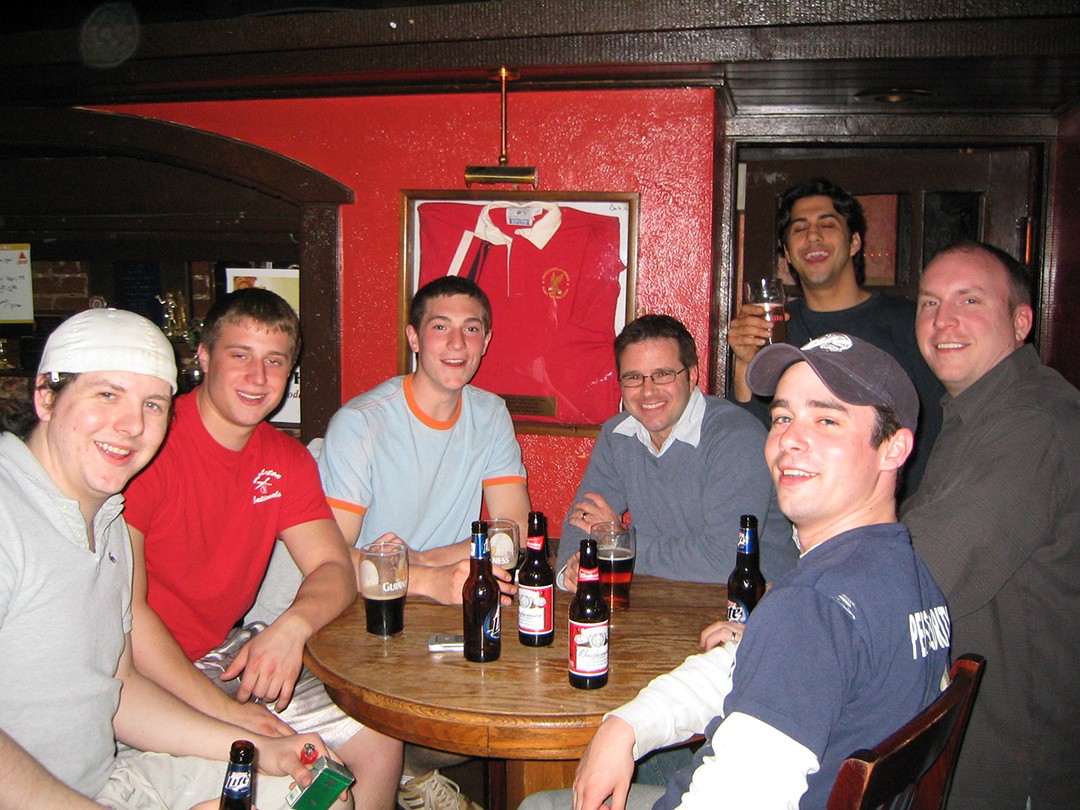 According to alumni lore…
Mike Naegele '89 recalled of QB Tom Monaco '84, "he could run the 40 in 3.2 seconds and throw a football 90 yards off of his back foot."
Jim Kelsh '75 spoke of legendary parties beginning on Thursday nights and ending only after all provisions and participants were exhausted and a virgin sacrificed.
Shawn Battle '91 recalled getting drunk, being kidnapped by the pledges (pretty much every semester), and being screwed to the floor with power tools (pretty much every semester).
Vasili Barbounis '99 couldn't recall any story of note… but he did try to sell everyone in the bar unique housing opportunities in up-and-coming Philadelphia neighborhoods.
And Bob Arthur '96 proudly declared that he had sex twice during college! (Remember there was some exaggeration here.)
We learned a lot about the Undergrads
We have a brother from as far away as Trinidad and Tobago (two islands; one country), Kieron Bernier.
Max Beauboeuf, is majoring in Electrical Engineering, though odds are he'll switch to RTF or "undecided."
And we can assume, due to the large contingent of brothers from central Pennsylvania, that the Scranton/Hazelton region's primary export is now students instead of coal.
Though they no longer participate in an All-fraternity Conference, the chapter still excels at sports including staples such as softball, football and, um… dodgeball? According to the rex, Ron Jenkins, the chapter is undefeated in dodgeball and is dominating the spring league. Jenkins denied that Pi Lam was a bunch of "cheaters" and "poopy heads" as purported by their rival, the Duckery Elementary School dodgeball team.
Impressions changed
These brothers hung in through a difficult time, and a number have put in admirable efforts to see the chapter reinstated. They have worked with and confided in their new chapter advisors, Ron and Tim. The scribe, Scott Fultineer, and the rex, Ron Jenkins have attended alumni committee meetings. Philanthropy Chair Joe Carrington put together an impressive public service schedule that included a children's book drive and a day of planting trees for the Kensington South Greening Committee. 
If first impressions are indicative of character, I think the alumni in attendence would agree that the guys we met have the Pi Lam qualities we all remember. They were well-mannered, good-humored, and had the courtesy to sit through our boring stories.
Plus, they liked beer… in the best traditions of Pi Lambda Phi.