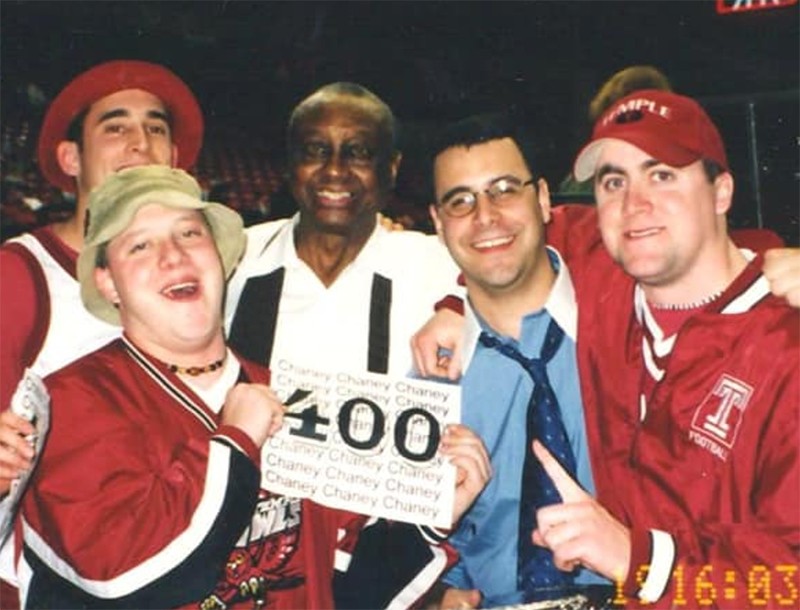 Some Pi Lams are doing great things, while others…
Robert Rosenthal '51 and Irv Gross '65 – 2 million reasons Temple should love Pi Lam.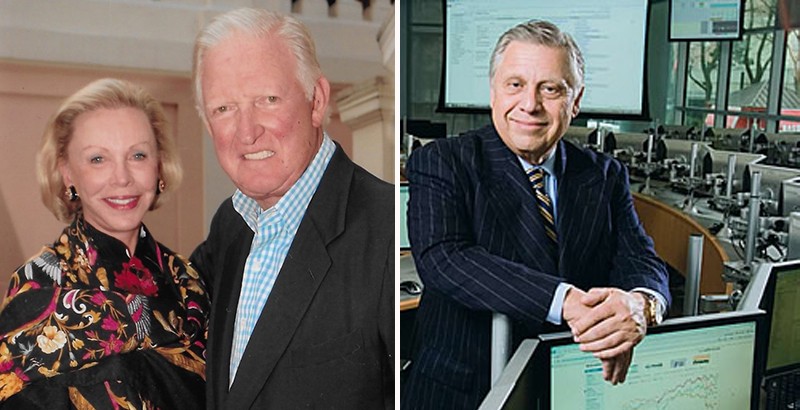 Since graduating, Brothers Rosenthal and Gross have had something in common besides brotherhood — a desire to give back to an institution that contributed so much to their success. In 2008, both highly successful brothers generously pledged $1 million each to Temple's Fox School of Business.
Brother Rosenthal, founder of one of the largest auto dealerships on the East coast, pledged his support to scholarships, saying, "as one who has benefited greatly from my association with the Fox School, I believe that it is my responsibility to play a role in the success of its students for generations to come."
Brother Gross, founder and principal of Ocean Castle Partners, LLC, earmarked his gift for the Capital Markets Room in the Fox School's new state-of-the-art home, Alter Hall. Said Gross, "this spectacular new building represents the quality that is synonymous with the Fox School and reflects its mission to be among the very best public urban business schools in the country."
Brandt "Don't call me Brandy" Sennhenn '93 – A terrible historian.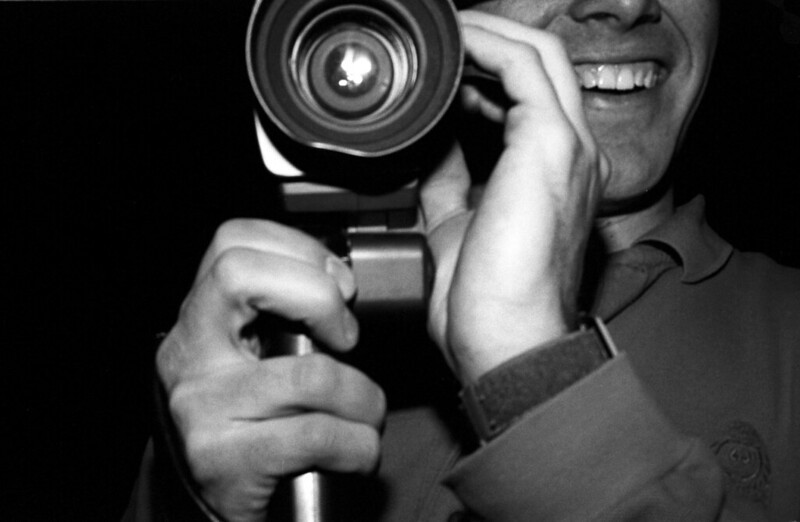 When he's not "pimping" his kids' motorized cars, you'll likely find Brandt at the Wachovia Center where he works as an audio technician for Comcast Sportsnet. Yep, that's Brandt (behind the camera) making sure you get an earful of the analysts paid to tell us why our favorite Philadelphia sports teams suck. As Historian in the early 1990s, Brandt did a fine job collecting our cherished Pi Lam photo memories. Unfortunately, he never actually shared them with anyone… until now! Most have been posted on Flickr with our online photo albums.
Drew Golin '95 – Misses John Cheney Basketball (and his shoes).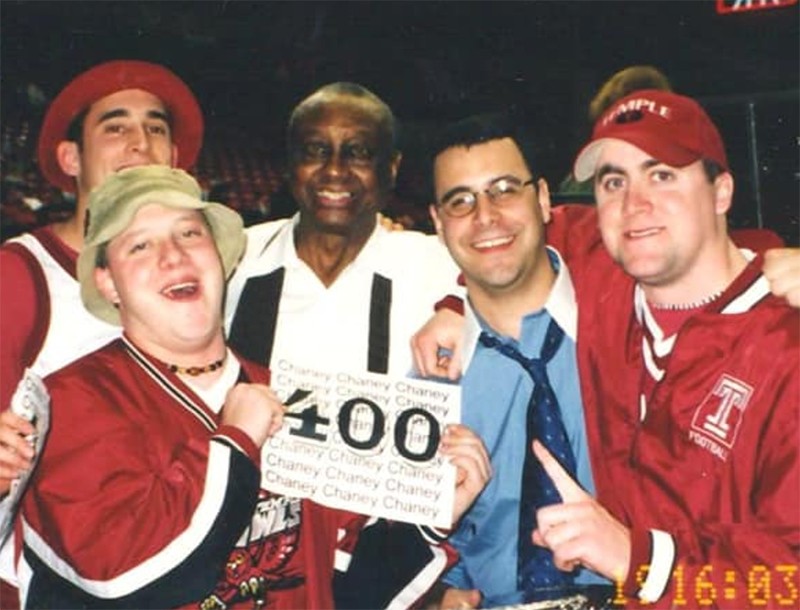 Drew had better seats than most of us during Temple's elite years in basketball in the late 1990s. Golin managed the team under Hall of Fame coach, John Cheney. Drew said of the curmudgeonly Cheney, "he was the greatest boss I ever had. The first day, our roles were defined. Everyone knew where they were supposed to be." And of the fringe benefits of working for Cheney, "we wore the same shoe size. I was always walking around in $25 khaki pants and $500 Bruno Maglis."
Gary Gordon '69 – Cinderella story… podiatrist from out of nowhere…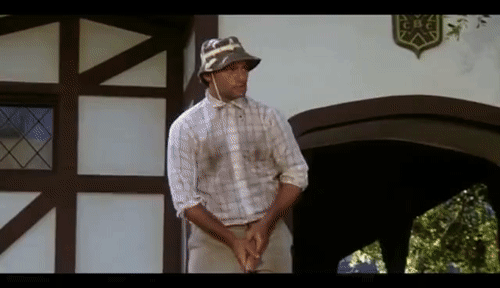 A practicing podiatrist at the Foot Health and Sports Medicine Center in Glenside, PA, Dr. Gordon also serves as chief of podiatry at the University of Pennsylvania Sports Medicine Center. An avid golfer, Gary put his best foot forward at the Pan American Maccabi Games in Buenos Aires in 2007 winning a gold medal as a member of the U.S. Masters Golf Team.
Roland Moskowitz, MD '49 – Keeping arthritis at bay.
Most Pi Lam brothers misconstrue "joint inflammation" as a byproduct of excessive lovemaking. Those more schooled in medicine, like Dr. Roland Markowitz, would tell you joint inflammation is a symptom of arthritis, which affects more than 21 million Americans. Moskowitz said, "By the age of 70, nearly everyone has osteoarthritis, though not all suffer the symptoms." Moskowitz, a professor of medicine and director of the Northeast Ohio Multipurpose Arthritis Center at Case Western Reserve University School of Medicine in Cleveland, is a pioneer in the research and treatment of arthritis. In 2005, he received a Lifetime Achievement Award from the Arthritis Foundation. More recently, in 2008 he was honored with the Mayo Clinic Distinguished Alumni Award. This is one Pi Lam whose work lessens the pain of millions of people.
Bob Maloney '78 – Oh tannenbaum, oh tannenbaum, you were so very stolen…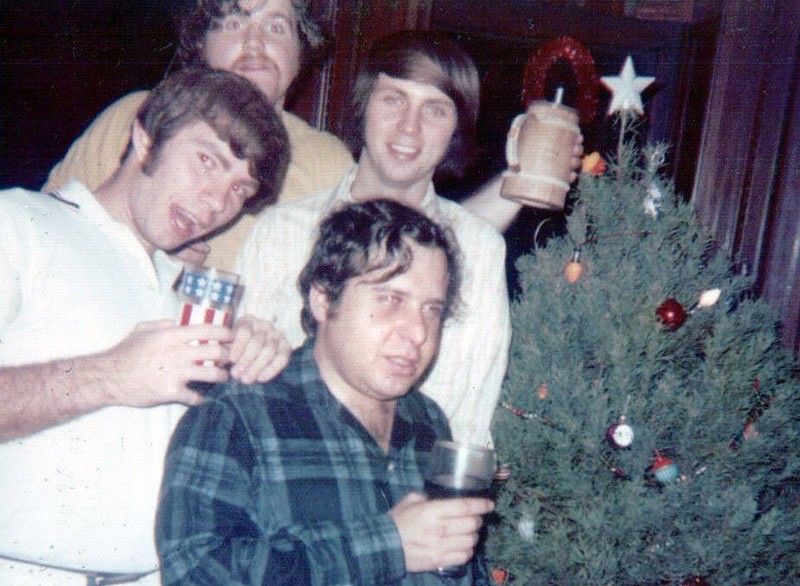 A former Rex, Archon and Kovner Award winner, Bob recalls that his favorite tradition was the annual Christmas tree, er… acquisition. The trick was finding an angel willing to perch atop of the ill-gotten fir. Another favorite pastime of the guys from the 70s allegedly involved paddles. Hey, not that kind of paddling. Bob boasted, "I firmly believe that our class invented beer pong."
Bill Glosser '51 – Not a DEA agent.
The alumni association has always been able to count on the support of Bill Glosser. Whether he's arranging an "old house" gathering, helping us track down a lost brother, or just sending a "well done" note, Bill truly lives our motto. A U.S. Magistrate, Bill has a unique appreciation of the law. As a gag, Bill once visited the house unannounced, to test the law-abiding nature of the brotherhood. After loudly announcing himself as a DEA agent, Bill said he was sure he could hear toilets flushing throughout the house.
Erik Hildebrandt '94 – Enjoys the feel of fine polyester sportswear.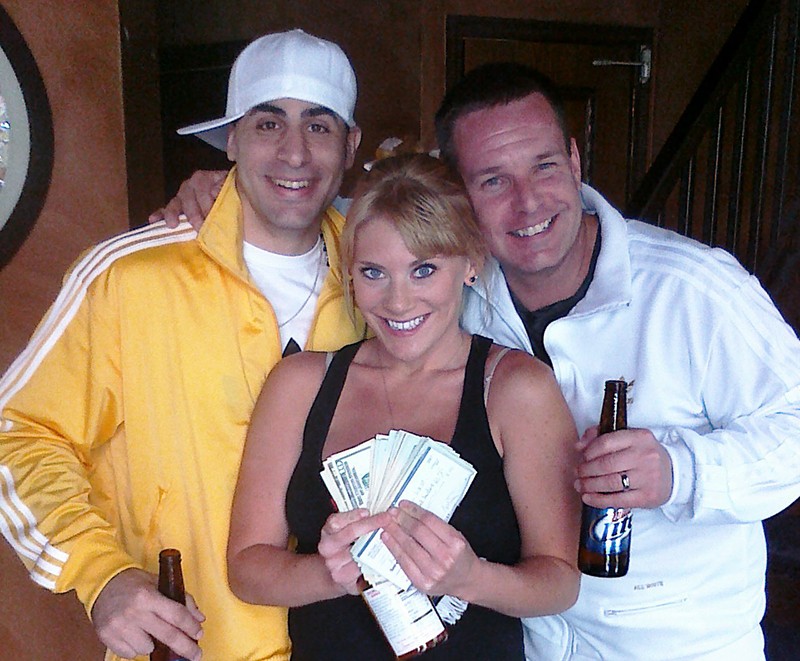 Philanthropist and track suit enthusiast, Erik recently organized the First Annual Hoboken Tracksuit Bar Crawl in April 2009. Apparently, not only wanna be mobsters and overbearing suburban sports dads enjoy the feel of fine polyester sportswear! The event raised nearly $2,000 for the American Cancer Society and the Juvenile Diabetes Research Foundation in addition to raising awareness for the need for stricter public fashion regulations.
Brett McKenna '95 – Has an edifice complex.
A Project Manager with the Sheward Partnership in Philadelphia, Brett describes architecture as, "frozen music, it is four-dimensional in that it requires time to experience." He also believes that our whole solar system… could be, like… one tiny atom in the fingernail of some other giant being. Brett is happily married, but says he sometimes suffers separation anxiety from his fraternity better half, "Dirty" Mike Kessler. When Brett is not at work he enjoys creating sculptures from his own navel lint.
Chris Malloy, RN '96 – Needed a career transplant, stat!

Chris left Temple in 1996 with the notion that he'd make a career in engineering. Armed with a Mechanical Engineering degree, he first found work as a software engineer. But after 10 years in the field, Chris admitted, "it finally sunk in that I hated what I was doing." After much soul searching and television reruns of ER and General Hospital, Chris decided to hang up his engineer cap for scrubs. He began his nursing career at Children's Hospital of Philadelphia in December.
Jeff DiBlasi '01 – Claims you need insurance.
Jeff admits that he learned everything he needed to know about risk and liability at Pi Lambda Phi. So profound (and frightening) were his undergraduate experiences, that it opened his eyes to the promise of insurance sales. Jeff joined State Farm in 2003, and opened his own Agency in Lansdowne, PA this year. Jeff invites brothers to visit his website www.InsureWithJeff.com and compare, saying, "I would love the opportunity to earn your business." His comprehensive policy includes coverage for vagrant break-ins, mattress slide injuries, errant golf balls, and falls from a four-story roof.
Mark Thomas '74 – Didn't respond with an interesting story.
Brother Mark responded to our last letter with a generous donation, but was not quite as generous with a story or update. So, we'll make one up. In protest to the 1982 British invasion of the Falkland Islands, many Americans boycotted English muffins (not realizing they are made in Canada). A breakfast lover and opportunist, Mark reacted quickly to anti-Anglo sentiment, selling his idea for "Thomas' Irish Muffins" to the Tasty Baking Company. Unfortunately for Mark, both the brevity of the war and 50% synthetic filling in his Irish muffin recipe doomed the venture to failure.
Stork Droppings
Apparently all that high school sex education went to waste. Look at all the baby daddies!
Erik Hildebrandt '94 – September 14, 2008, Ella Sloan
Jarrod Johnson '97 – February 23, 2009, Brayden Robert
Stavros Gougoustamos '94 – March 24, 2009, Yianna
Jeff DiBlasi '97 – May 21, 2009, Juliana Grace
Jay Gordon '97 – May 19, 2009, Ana Grace
Scott Schied '93 – swears it's not his.