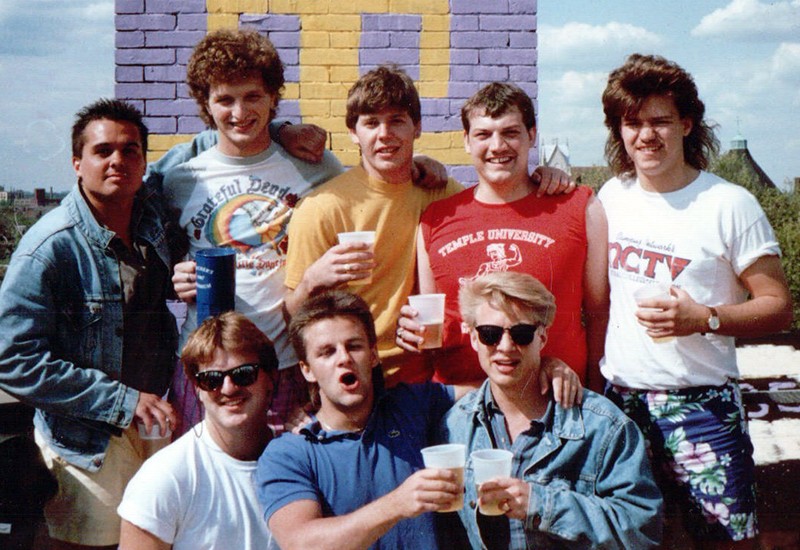 Some Pi Lams are doing great things, while others…
Marc Bendo '94 – Self-proclaimed Renaissance man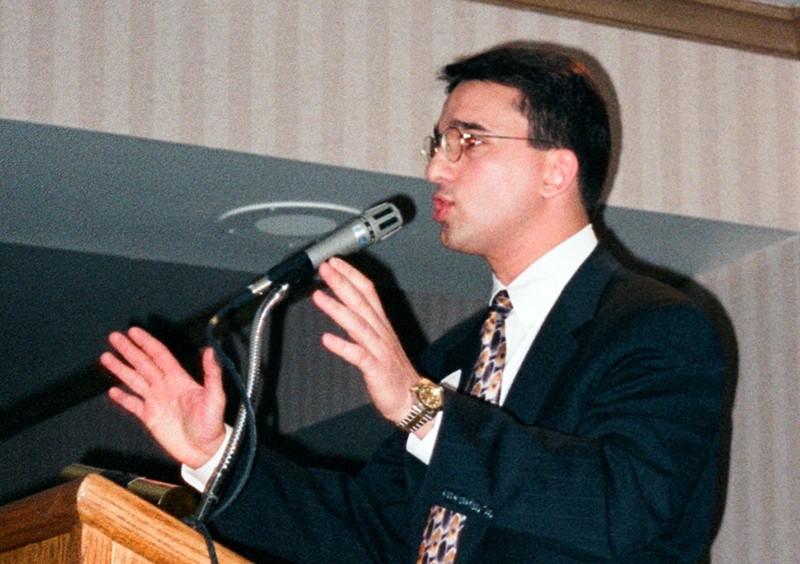 In addition to offering legal services to the downtrodden and litigious, Marc Bendo has apparently been highly productive in his spare time since college. Marc reports that he's become, "an expert in jungle warfare, speaks German with a Memphis accent, played shortstop for the Boston Red Sox from 1996-99, is planning an invasion of Canada, and is worshipped by a small village in Tibet." That's quite a resume! But, perhaps the most shocking and revolting revelation Marc shared with us was that his long-time Pi Lam roommate, Deron Henise, has a prehensile tail!
John Stickel '95 – Smile for the birdie!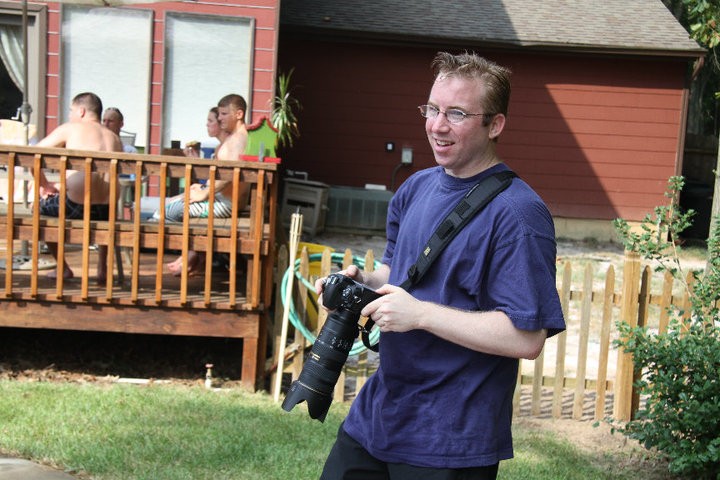 A shutterbug at heart, John Stickel, passed on an invitation to Temple Law to pursue a law degree in our nation's capital at American University. After getting all lawyered up, John spent a summer working on Capitol Hill for the Ways and Means Committee, and now works as a lawyer for the U.S. Securities and Exchange Commission. Still John, who maintains a photography business on the side, says he prefers peering through a lens to poring over legal briefs. Check out his work.
Jed Loftis '05 – To hell and back 
While many Pi Lam brothers may grumble about a little dip in some whaleshit, you won't hear Jed Loftis complaining. He was in the real shit, Iraq. And haze-happy brothers just don't hold a candle to batshit crazy Sunni fanatics. After a yearlong tour with an Army reconnaissance unit in Baghdad, Jed recently returned safely to the States. Pi Lam salutes Jed for bravely serving his country in the proud tradition of Alfred "Koko" Kovner. Welcome home brother!
Ed Shytle '87 – Penn degree, but always Alpha Delta at heart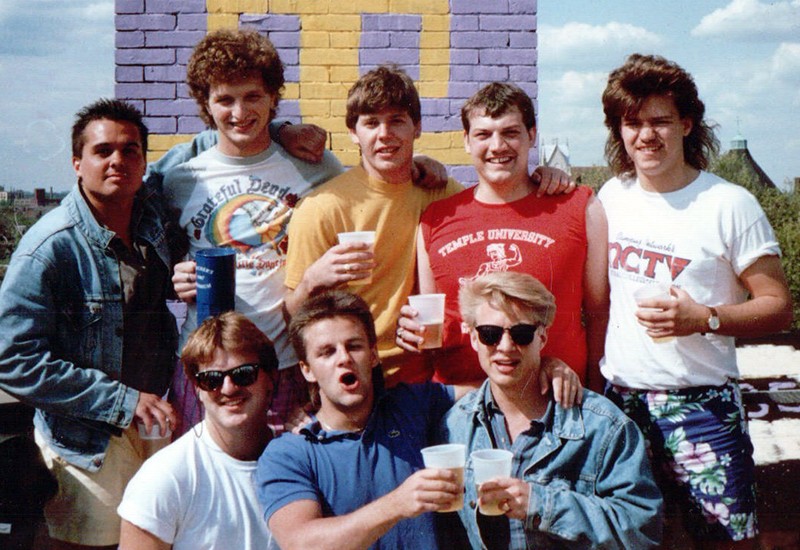 Brother Ed Shytle dropped us a line to let us know he is, "married with two great kids (12 and 3) and still playing softball." Ed sends greetings to classmates, "Neggs, Tagles, Sporty, Tommy 'Touchdown' Monoco, Robert 'BMOC' Kwortnik, Eric 'I don't take steroids' Keller, Timmy 'J Fred Boggs' Bryant, all the 'herbal' brothers in Elliot Cohen's loft, Patrick 'warm beer' McGurk, 'Concrete Head Irish' Joe McGee, Nicky 'the Greek mobster' Tsokanos, John 'I'm not Irish' Goldstein, and Fred Dog!"
Though he received his degree from Penn, Ed is a Temple Pi Lam through and through. Ed recalls, "there was nothing like a Purple and Gold bash on Thursday nights. No one could hold a candle to our fraternity when the Schmidt's truck arrived with those 15 barrels. Man, I hated pledging those nights! Long live the mullet, bandanas, work boots, beat-up jeans and a purple sweatshirt — the official Pi Lam outfit!"
Jeff Peeno '00 – Awesome to his students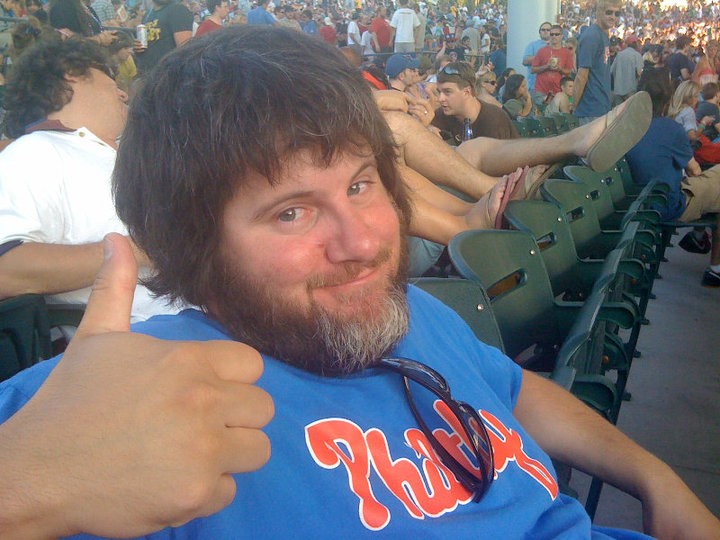 A recent online search for lost brother, Jeff Peeno, proved fruitless, but revealed evidence of his students' admiration. Peeno's magnetism has garnered him 13 fans on a Facebook page described as: "The unofficial page for Jeff Peeno, the art teacher at TFMS. If you think he's awesome, become a fan. *NOTE* Not made by Mr. Peeno. He has no idea." Jeff, you are secretly awesome.
Doug Geffner '80 – Concerned with your libido 
Seeking a warm environment, Doug Geffner found gainful employment at Gables Engineering in Miami. Geffner sends his regards and an inquiry as to the well-being of his brothers, "I hope everyone is getting laid regularly."
Ryan "Turf" Overturf '07 – His wedding colors were Purple and Gold!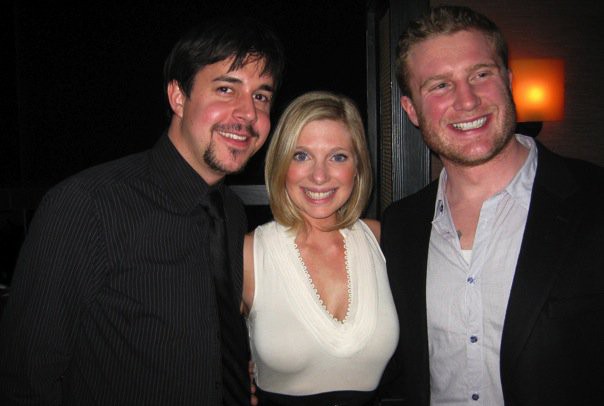 Flanked by his brothers, Ryan "Turf" Overturf recently tied the knot with college sweetheart, Jayne. Though he could have filled his wedding party with family members — his unemployed Uncle Joey, his drug-addled half-brother Ramone, his sex-offender second cousin (name withheld), or his cross-dressing brother-in-law, who insists on being called Liz Taylor — Turf wisely chose his fraternity brothers. Here's to brotherhood. Congratulations Turf!
Steve Marino '90 – A dog-gone, bone-ified restaurateur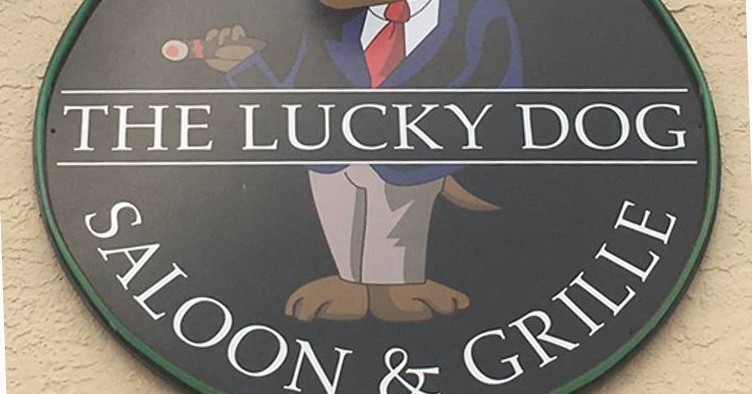 You can teach an old dog new tricks. Take Steve Marino, for example. Steve gave up the downhill excitement of a being a ski instructor for the dog days of running a bar and restaurant. Steve and his wife Barrie opened the Lucky Dog Grille & Saloon in Lafayette Hill in 2001. While things were ruff at first, the Lucky Dog has developed a local following as loyal as Labrador Retriever. Tired of the dog references yet?
Eli Hoffman '59 – Tells his Temple story on TU Tube
Eli Hoffman joined other notable Temple advocates including Bob Saget and Peter Liacouras to help Temple celebrate their 125th anniversary by filming a video testimonial. Eli reveals that tuition was once $375 per semester (shocking), and the neighborhood was "a very difficult place at the time" (not so shocking). Watch the video.
Stork Droppings
And the Lord sayeth, "Be fruitful and multiPi!" And the Pi Lams humpeth. Congratulations to these brothers who are multiplying.
Chris Cassese '93 – Get boiling water…and towels! Chase Nicholas, born July 22, 2009. Mom and dad didn't make it to the hospital so dad Cassese had a hand in delivering his son.
Jay Gordon '97 – By the grace of God, she looks like her mother. Ana Grace, born on May 19, 2009, 8 lbs. 12oz.
Tim Jennings '99 – This is heavy, man. Colbie Jennings, born on August 12, 2009, weighing in at 9 lbs. 10 oz., whoa!
Bob Arthur '97 – Two times the baby doodie! Twins! Ryan John and Zachary Robert born on November 9, 2009.
John Stickel '95 – Unstuffed for Thanksgiving. Justin Anderson. 7 lbs. 9 oz. Born on November 24, 2009.
Ronnie Savarese '91 – Dad is already looking into convents to hide her away during her teenage years. Helena Cathleen, born on January 10, 2010, 8 lbs. 3 oz.
Joe Pizza '05 – Delivery in 30 minutes, or he's free! Joseph Henry Pizza V. Born on January 5, 2010, 9 lbs 9 oz.
Chapter Eternal
The following brothers recently passed into the Chapter Eternal.
Gary Mangel '65 – The alumni association was recently informed of the passing of Gary Mangel in 2000 by his daughter Sarah, a teacher in San Angelo, Texas. Gary was an attorney in Atlantic City for 25 years. Sarah thanked Pi Lam for remembering her father and recalled, "We always asked him about the fraternity paddle he owned!"
Bob Mentzer '90
Solomon Gertsman '63 
Bernard Pincus '55 
Howard Friedman '64 
Gary Shapiro '63